Atmox Crawl Space Ventilation Systems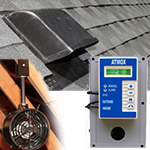 View Attic Brochure View Crawlspace Brochure
What is ATMOX?
ATMOX is a moisture control system for crawl spaces, basements and attics.
ATMOX takes a common sense approach: Only ventilate with outside air when it is beneficial to the space.
ATMOX uses a dew point comparison of outside conditions and inside conditions to reduce undesired moisture through proper ventilation.
ATMOX Systems and Fans are designed as a modular system to adapt to various sizes, layouts and structures.
ATMOX installs with no need for an electrician. Fans receive power from one electrical outlet. The power supply then provides power and signal to the fans via 12VDC low voltage cable.
ATMOX Crawlspace/Basement System can handle moisture in the toughest environments and conditions with an optional dehumidifier.
ATMOX Attic System operates under a Heat Reduction Mode to reduce temperatures in the attic during peak summer months.
ATMOX Attic System has an optional Winter Mode designed to intentionally cool the attic through ventilation when outside temperatures are below freezing.